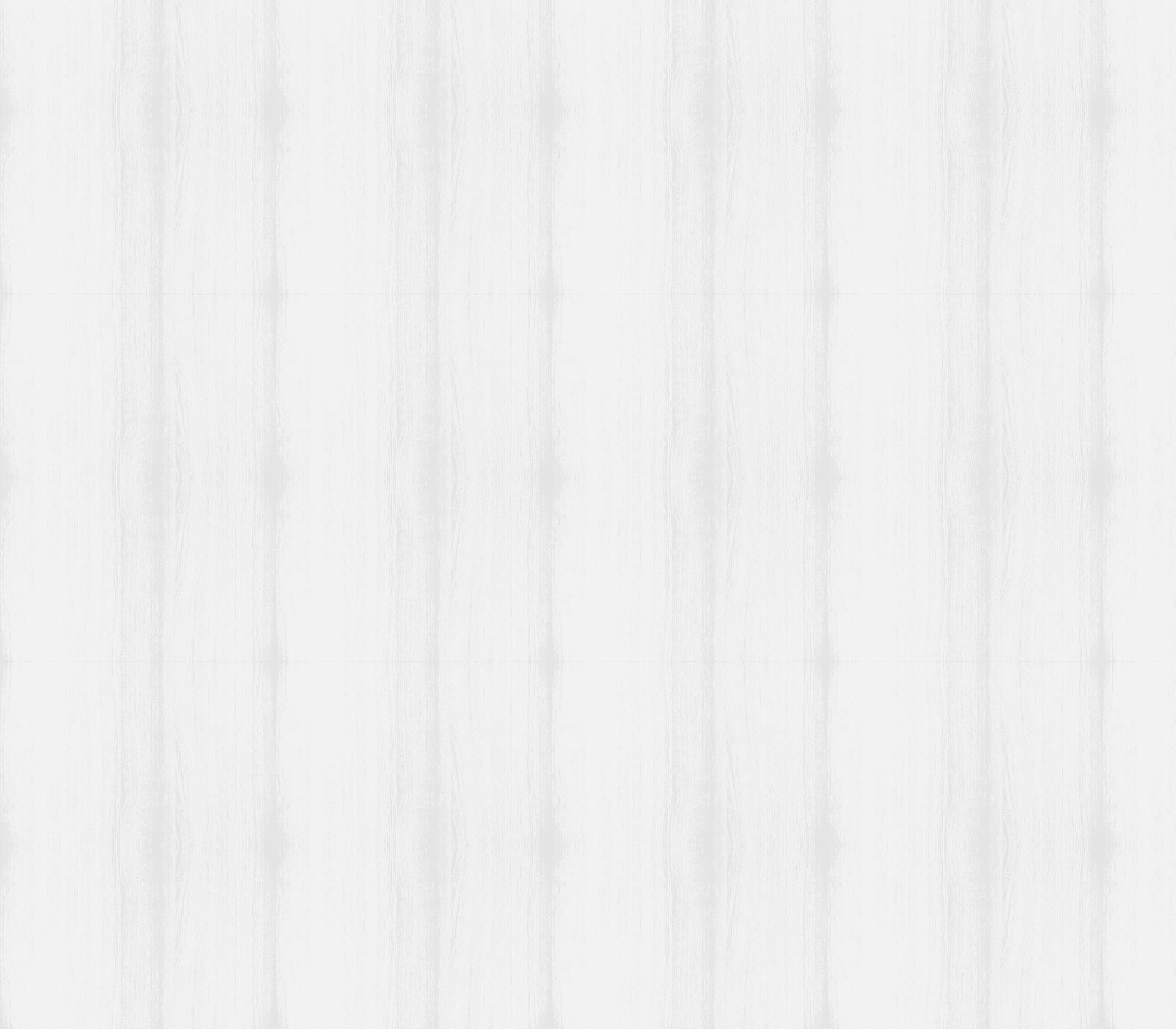 Pole Barns
Pole barns are structures made from wooden poles that support the barn. They've been around for a very long time, and they're still very popular. That is because they are easy and quick to construct and are efficient spaces for storage. A pole barn uses posts as its foundation to provide support to the building. They have no dug foundations. Rather, these simple structures get all their stability from the poles.
Buildings And More offers custom pole barn structures to meet our customers needs. Our pole barn structures are engineered and manufactured in Lake City, FL. Trusses are custom built and welded from high-grade steel with upgraded design, strength, and durability at the forefront.
Buildings And More offers 2 levels of barn structure: Stage 1, which comes standard with 6x6 pressure treated posts and 29-gauge metal roofing and is engineered to 105 MPH wind rating. Our second level is referred to as Stage 2, which comes standard with 8x8 pressure treated posts and 26-gauge metal roofing and is engineered to 145 MPH wind rating.
A variety of options are available including closing in the sides, gable, ends, wainscoting, partial walls, doors, roll up doors, and windows. Lean-to's are a popular addition to our pole barn structures as well.
Are Pole Barns Structurally Sound?
Pole barn kits must be structurally sound. Withstanding the anticipated structural load without breaking is key. All post-frame buildings, wherever they are located or whatever size they may be must resist lateral and vertical loads safely.
Vertical loads are a load that acts up and down. Some common vertical loads are lofts, second stories, deck systems, the building's own weight, and snow on its top.
Lateral loads are loads that act parallel to the ground, like earthquakes and strong winds. Those forces may work in all directions.
Pole barns need to withstand loads that are both perpendicular and parallel to all of their walls. Structural loads have to pass from all the areas where loads are applied. The load path is the force transfer through any post-frame structure. Continuous load paths transfer all lateral and vertical loads from one component of the building to the next. That continues until the ground is reached.
Roof Styles for Metal Buildings
Choosing the right roof style for your metal building is important for both durability and aesthetic appeal. Here are the three most popular roof styles for steel structures.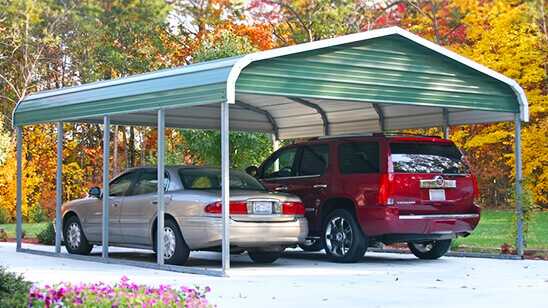 Regular roof styles are the perfect combination of affordability, elegance, and functionality. It features horizontal panels and rounded edges, which provide reliable protection against rain, snow, and debris. Perfect for areas experiencing mild weather conditions.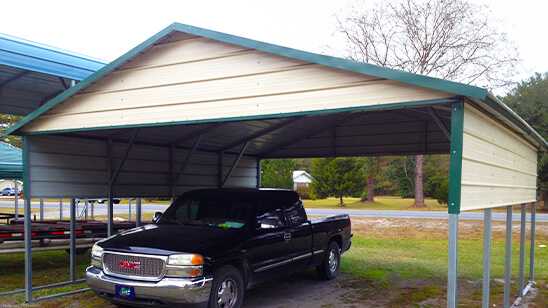 Boxed-eave roof style is perfect for protecting your cars, equipment, and other valuables. The horizontal panels in this roof style create an "A" shape, which prevents snow and debris buildup. This roof style is great for areas experiencing moderate weather conditions.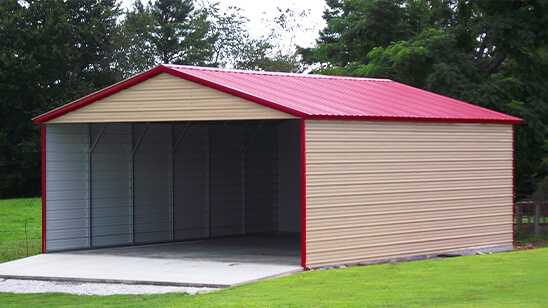 The vertical roof style offers superior strength and efficient water drainage. With vertically-oriented panels, it easily sheds rain, snow, leaves, and other accumulations. This style is perfect for areas experiencing extreme weather conditions.

Get your dream building installed at your site
Call today to talk to our building experts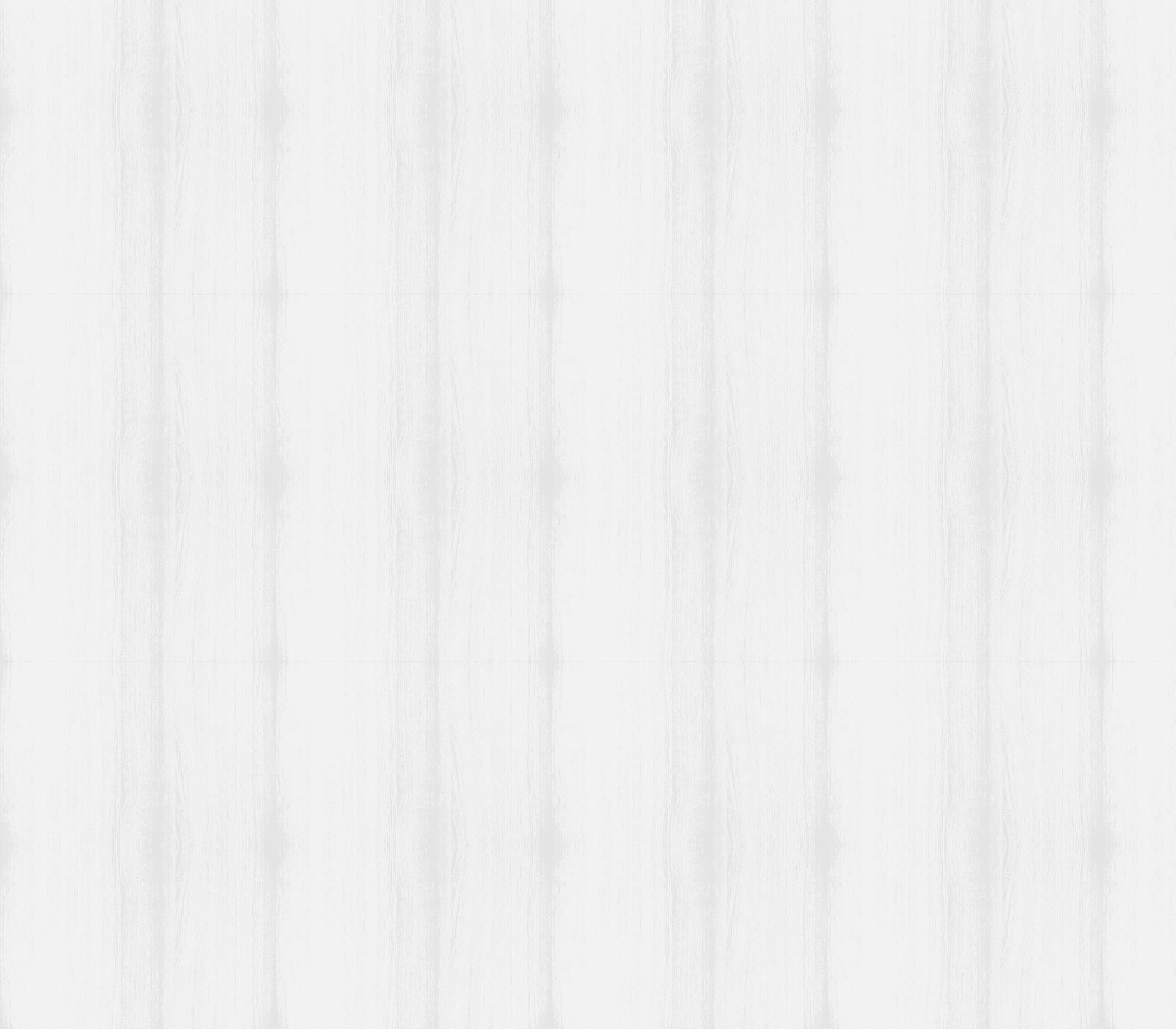 Posts and Metal Roofing
All 6x6 and 8x8 posts are ground contact treated with a process called Micronized Copper Azole (MCA). 29-gauge is standard in our Stage 1 pole barn structure and comes with a 25-year manufacturers warranty and is available in standard galvalume and 17 customized colors.
26-gauge is standard in our Stage 2 pole barn structure and comes with a 25-year manufacturers warranty and is available in standard galvalume and 17 customized colors.
Steel Engineered Trusses
Trusses are coated with a 3-stage rust inhibitor coating.
Our trusses have been engineered to be superior to the construction of most other steel truss configurations on the market. Our top and bottom cords have been upsized to 2x2x3/16 angle iron. Our internal webbing has been located to provide more consistent lateral strength.
2x6 purlin attachment points (purlin retainers) have been upsized to gain a more secure hold on the cross purlins and provide a greater area for fastening.
Popular sizes for our pole barn structures are 20x20, 24x24, 24x40, 30x30, 30x40, 30x50, 36x48, 36x60, 40x40, 40x60, 40x80, 40x100, 50x50, 50x60, 50x84, 50x100, 60x60, 60x72, and 60x100. Custom sizes are available as well. Custom roof pitches are also available to meet your specific needs.
Pole Barns for Stabling Horses
If you have horses at your property, choosing a well-made horse barn is essential. Not only will it provide comfort and safety for your horses, but it also increases your capacity for storage. If you choose a well-designed prefabricated pole barn kit for your horses, you'll be able to reap the benefits.
Adding on tack rooms and run-in additions only serves to expand its functionality. You can select custom options like different materials, embellished roofs, inbuilt equine comforts, and two-storey plans. Even better, the kit is a breeze to put together and allows your horses to be stabled in a professionally engineered and designed structure.
Why Choose a Pole Barn?
A pole barn is a great choice for all kinds of purposes. Whether for stabling horses or expanding your storage space, a pole barn is an affordable and smart choice.
Pole barns are a very smart choice. They're cost-effective and customizable to suit your needs. Easy to construct and versatile, they're attractive too. They add value to your property and keep your livestock well-protected.

There are seemingly endless options to pick from when it comes to pole barns. You can select the roof of your choice and choose the best materials for your needs. There are also several sizes to suit your requirements.

A pole barn is built to last. It is made with strong and robust materials that withstand harsh weather and tough conditions. Made to stand the test of time, pole barns will give you many years of excellent service.

Pole barns are good for the environment. We are all increasingly eco-conscious in today's modern world, where climate change is a serious concern. A pole barn is a green choice that is sustainable.

Pole barns are economical, durable, and versatile. They can be used for a wide variety of purposes, from stabling to storage. They are a cost-effective choice too, as pole barn prices are surprisingly affordable.
How to Use Your Pole Barn
One of the top advantages of pole barns is their versatility. You can use them for all kinds of purposes which makes them great value for money.
Garages – one common use of pole barns is for parking vehicles under cover. Since they come in different heights and depths, they're suitable for storing a range of vehicles. Whether you have a boat, an RV, or several cars, a pole barn garage is of great value.

Workshops – if you are an artist, craftsman, collector, or musician, a pole barn represents the ideal workshop for you. It adds a large, separate space to your home where you can work in peace. Since pole barns come in different sizes, it's easy to create the right size workshop for you.

Horse Stables – if you have horses on your property, a pole barn is the perfect stable for your livestock. Customizable in many sizes and styles, you can stable just one horse or several. A pole barn stable is strong and will provide optimal shelter for your animals.

Man Cave – if you're looking for somewhere on your own property to get away from it all, a pole barn is perfect. Strong and highly customizable, a pole barn man cave gives you plenty of space to explore your hobbies in peace.
Essentially, a pole barn is the perfect choice for all kinds of purposes. Thanks to the affordability and versatility of pole barn kits, they're an attractive and practical option. They're highly suitable for all your storage, garaging, and stabling needs.
Customizing Your Pole Barn
No matter why you're considering investing in a pole barn, Buildings And More offer customization options to suit your needs. You can choose to add a second storey or cupola. You could consider adding on a run-in shed or tack room for your horses.
You can opt for different materials and roof styles. Whatever you opt for, you can be sure that pole barns from Buildings And More are naturally attractive too. Even better, it's quick and easy to construct your own customized pole barn. Whether you're storing equipment or parking your car under cover, a customized pole barn from Buildings And More is perfect.
Buildings And More is the Top Choice for High-Quality Pole Barns
When you need a high-quality pole barn kit, Buildings And More is your top choice. As a leading dealer in the metal building industry Buildings And More is a reliable choice for your pole barn needs. No matter the reason you're considering a pole barn, you can benefit from outstanding customer service from Buildings And More.
Buildings And More offers:
Several building dimensions for you to choose from. You can choose a smaller 30x40 pole barn or a much larger model, depending on your needs.
Free installation and delivery to your property across the 48 contiguous American states for your convenience.
A short delivery and installation time so you can start using your pole barn as quickly as possible.
Guaranteed protection and easy upkeep for many years to come, thanks to the highquality of our pole barns.
Simple kits that are quick and easy to construct by yourself on your own property.
A wide range of different colors are available for you to choose from to suit your preferences.