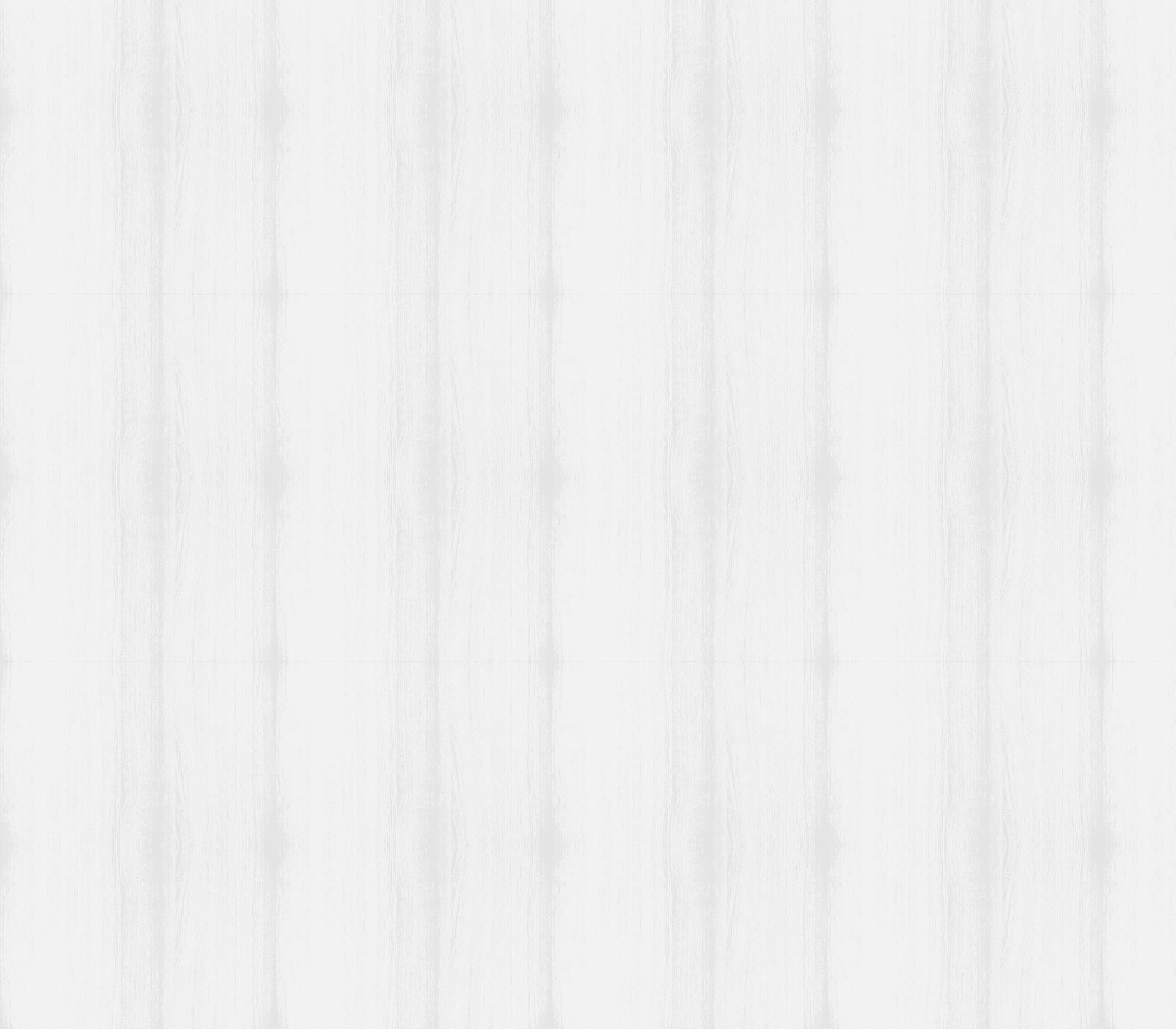 Metal Carports
Steel carports are the ideal choice if you want to keep valuable assets safe from harsh weather conditions. These covered metal structures can protect cars from snow and heavy rain. They also prevent damage from debris flying in the wind as well as windshield freeze.
When compared with traditional buildings, prefab steel carports are simple to erect and very affordable. They are also reliable, sturdy, and durable. With all of this in mind, it isn't hard to see why steel carport kits are so popular today.
If you need more storage space or a garage for your vehicle, a metal carport is perfect. If you construct a steel carport, you'll also benefit from increased property values.
A Metal Carport Offers Optimal Vehicle Protection
If you have a car, RV or boat, you want to keep it safe and well-protected. One way to do this is to invest in a metal carport.
Metal carports are designed to be strong and resilient. They provide optimal shelter from the weather, so your vehicle isn't exposed to harsh conditions. Whether the climate is icy, snowy, wet, windy, or hot, a carport withstands the weather perfectly. Your vehicle won't experience any damage due to the strength of the metal structure.
If you opt for a closed-sides carport, it will offer excellent security for your vehicle too. It will be safe from theft or vandalism.
The below sizes represent our most popular Steel Buildings. We have many more sizes available. Please Contact Us so we can provide you with information for our other sizes.
8'x8'
8'x12'
10'x12'
12'x12'
10'x16'
12'x20'
12'x30'
Roof Styles for Metal Buildings
Choosing the right roof style for your metal building is important for both durability and aesthetic appeal. Here are the three most popular roof styles for steel structures.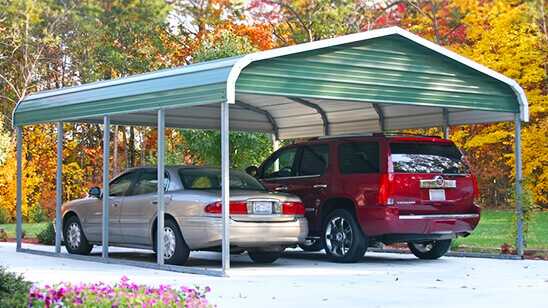 Regular roof styles are the perfect combination of affordability, elegance, and functionality. It features horizontal panels and rounded edges, which provide reliable protection against rain, snow, and debris. Perfect for areas experiencing mild weather conditions.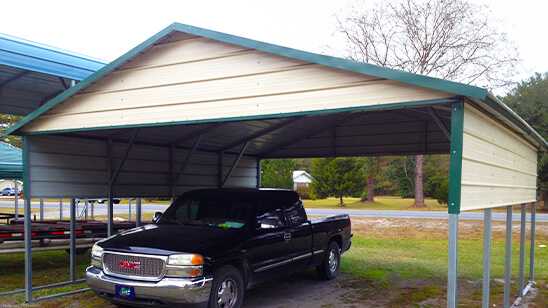 Boxed-eave roof style is perfect for protecting your cars, equipment, and other valuables. The horizontal panels in this roof style create an "A" shape, which prevents snow and debris buildup. This roof style is great for areas experiencing moderate weather conditions.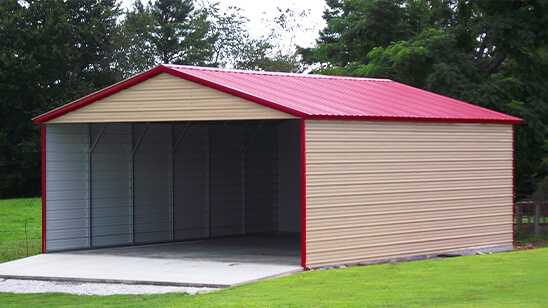 The vertical roof style offers superior strength and efficient water drainage. With vertically-oriented panels, it easily sheds rain, snow, leaves, and other accumulations. This style is perfect for areas experiencing extreme weather conditions.

Get your dream building installed at your site
Call today to talk to our building experts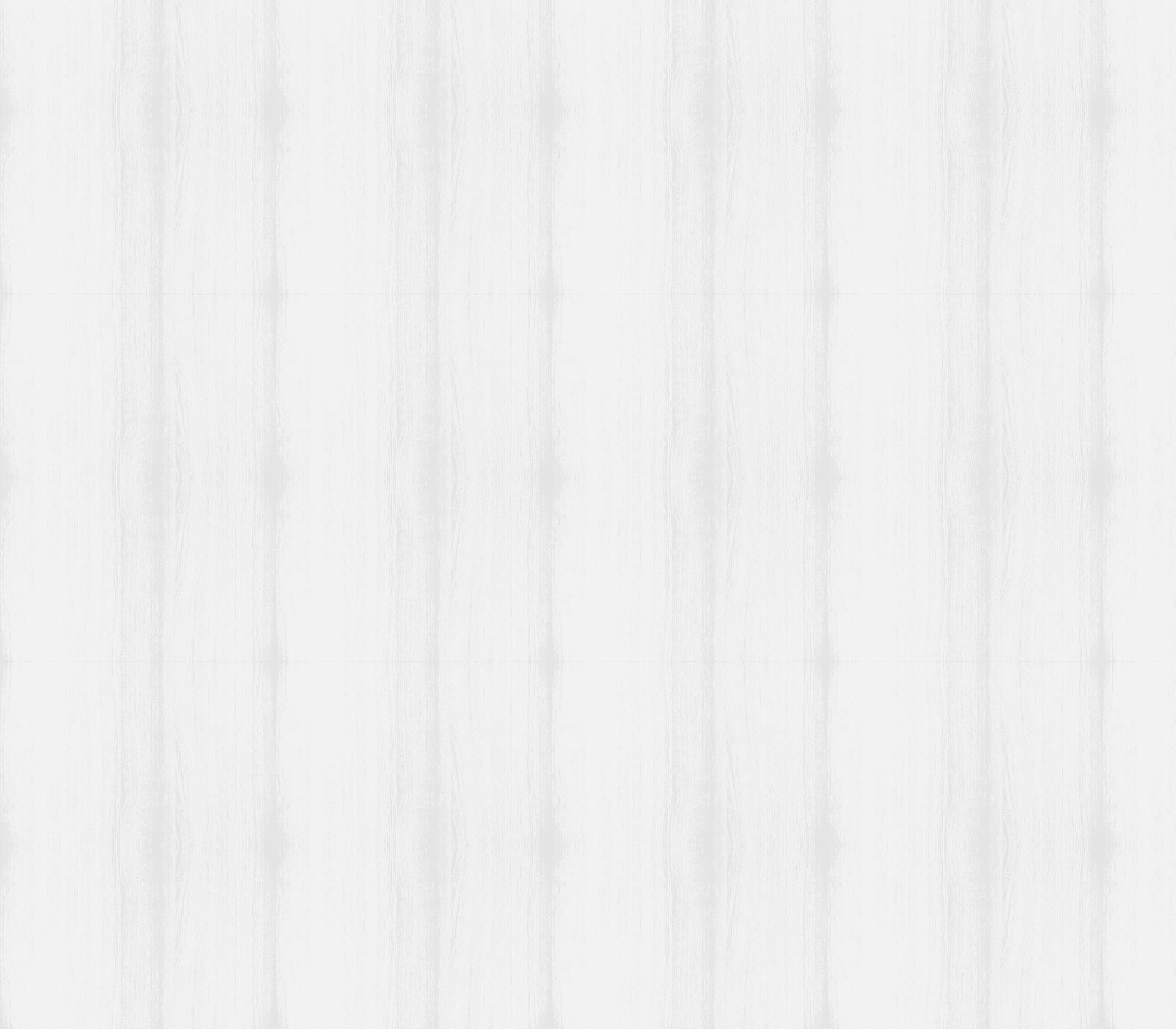 Which Types of Metal Carports Can I Buy?
There are several different varieties of metal carports on the market today. Each one offers its own benefits and advantages.
One Car Carport
If you only have a single vehicle, a one car metal carport is perfect. With sufficient space to store your car safely undercover, a single vehicle carport is strong and resilient. It's also affordable and quite easy for you to construct.
Two Car Carport
For families with two vehicles, a two-car carport is an ideal choice. Offering sufficient space to park two vehicles under cover, it is an affordable and practical garaging solution. It's also a good option for one vehicle families who want more storage space.
Three Car Carport
If you have three cars, or a car and other vehicles, a three-car carport will suffice. It offers plenty of room to park three cars, or a car together with a boat or motorhome. Alternatively, this strong and spacious structure provides a large amount of undercover storage space.
Utility Carport
A utility carport is a versatile and practical option for any property. It offers under cover and protected space for all types of storage. You can park vehicles, store equipment, or keep valuables safe from damage or theft.
Motorhome and Boat Carports
If you have a motorhome or boat, a big problem you face is where to store it. Keeping it outdoors isn't a good option as the weather can damage it. It may also be at risk of theft. A motorhome or boat carport is the ideal solution. It keeps your vehicle safe and protected.
Carport with Storage
If you need a place to park your vehicle as well as some additional storage space, this option is perfect. Providing you with ample room to keep your equipment safe, it is strong and sturdy as well as weather-resistant.
RV Carports
RVs are a wonderful vacation solution for any family, but they're difficult to store. You don't want to leave it on your driveway where it could be stolen or damaged by weather. An RV carport resolves this issue. You can keep your RV safely undercover and protected.
Custom-Built Carport
One of the best things about metal carport kits is that they are highly customizable. You can select different features to suit your needs. For example, you can choose different windows, doors, and roof styles. This gives you an enormous amount of storage flexibility.
Which Roof Style Can I Choose for My Metal Carport?
There are several different roof styles you can pick for your metal carport. All are ideal for different purposes.
A Regular Roof Carport – this economical and affordable type of roof is the most common option. It has horizontal roof panels and rounded corners.

The A-Frame Roof Carport – An A-frame roof is best suited to moderate weather and more stylish properties.

A Vertical Roof Carport – A vertical roof carport is best if you live in a region with harsh, snowy weather. Its design means that snow slips off easily.
How Can I Customize My Carport?
Metal carports are very easy to customize. This makes them an ideal choice for all kinds of purposes. Here are just some of the customization options you can pick from.
Size – choose from a large or small carport to meet your needs.

Roof styles – different styles of roof suit different climates and different purposes. They include:
• A regular roof – suitable for most purposes and ideal in mild to moderate climates.
• An A-frame roof – best suited to moderate weather and for more stylish properties.
• Vertical roofs – perfect for snowy, cold climates due to the vertical design.
Color – you can choose different colors to complement or contrast your existing property.

Doors and windows – choose from different styles and sizes of doors and windows to meet your needs.

Anchors – different types of anchors are best suited to different surfaces.

12 and 14 gauge steel framing – you can choose from either 12 or 14 gauge steel frames. 12 gauge is thicker and more suited to heavy-duty purposes.

26 and 29 gauge roofing – 26 gauge roofing is thicker and more suited to heavy-duty purposes and harsh climates.

Certifications – some metal carports have certifications for use in particularly harsh climates
How Can I Use My Carport?
Obviously, you can use your carport for parking your vehicle. However, there are many other purposes you can use it for too. Some of the options include:
A playing area – perfect for children, a carport provides an undercover play area for games.

Parking – obviously, a carport is ideal for garaging your car or motorbike.

Storage space – you can keep equipment, possessions, and other items in your carport.

Agricultural equipment – lawnmowers, tools, and other agricultural equipment can be stored under cover safely.

A workplace – from woodwork to metal work and everything in between, a carport is a sheltered spot to work on it.

A hobby space – whatever your hobby is, you can use your carport to keep the mess out of the house!
And many more options!
What Are the Benefits of Metal Carports?
There are so many benefits to choosing a metal carport for your property. The advantages include:
Bug resistance – metal carports resist bugs and pests, so your property is protected.

Eco-friendly – metal carports are a sustainable solution that is good for the environment.

Weather-resistant – a metal carport keeps your property and vehicle safe from snow, wind, rain, and sun.

Efficiency – metal carports are a quick and efficient solution for storage on your property.

Durability – they are strong and robust, built to stand the test of time.
What Should I Consider Before Buying a Metal Carport?
There are several considerations to keep in mind before you invest in your metal carport kit. They include:
Choosing a suitable location – you need to choose a spot on your property with enough room to install your carport. Bear in mind any doors and windows that may need to open.

Get relevant permissions – in some areas, you need to obtain permission to install a carport. Make sure you've done this before you place your order.

Remove any debris – if the area where you will install your carport is covered with debris, remove it first. Your metal carport can only be installed on a clear and smooth surface.

Prepare the soil – make sure that you've prepared the soil in the area where the carport will be installed correctly. This will make sure your carport is built rapidly.

Choose your foundation – you can choose from different types of foundations for your carport. Decide which one you'll use and prepare it in advance.
The Components of Your Metal Carport Kit
Your metal carport kit will arrive with all the components you need to build it. Each carport is fully customizable so make sure you order the parts you need. When your kit arrives, it will contain:
The steel frame supports and members
The roof panels
The wall paneling
All of the required fastening hardware
All of the required building anchors
Any of the additional customization features that you've chosen. These could include trims, gables, windows, doors etc.
Metal Carport Prices from Buildings And More
When you need a high-quality metal carport, you need to look no further than Buildings And More. As a reliable and reputable supplier across the USA, Buildings And More is your top choice for affordable carport kits.
Not only can you benefit from the best customer service and highest quality materials, but you'll also benefit from competitive prices. The price you pay will depend on the customization options you pick. However, you can rest assured that you'll be getting amazing value for money.
Get Your Affordable Metal Carport from Buildings And More Now!
If you're ready to invest in an affordable, high-quality metal carport kit, Buildings And More is here to help. Enquire now about the options available to you and choose one of our robust and sturdy kits. We offer the most competitive prices, the best customer service, and the highest quality products. So don't hesitate, to call (386) 755-6449 to get your new metal carport from us today!