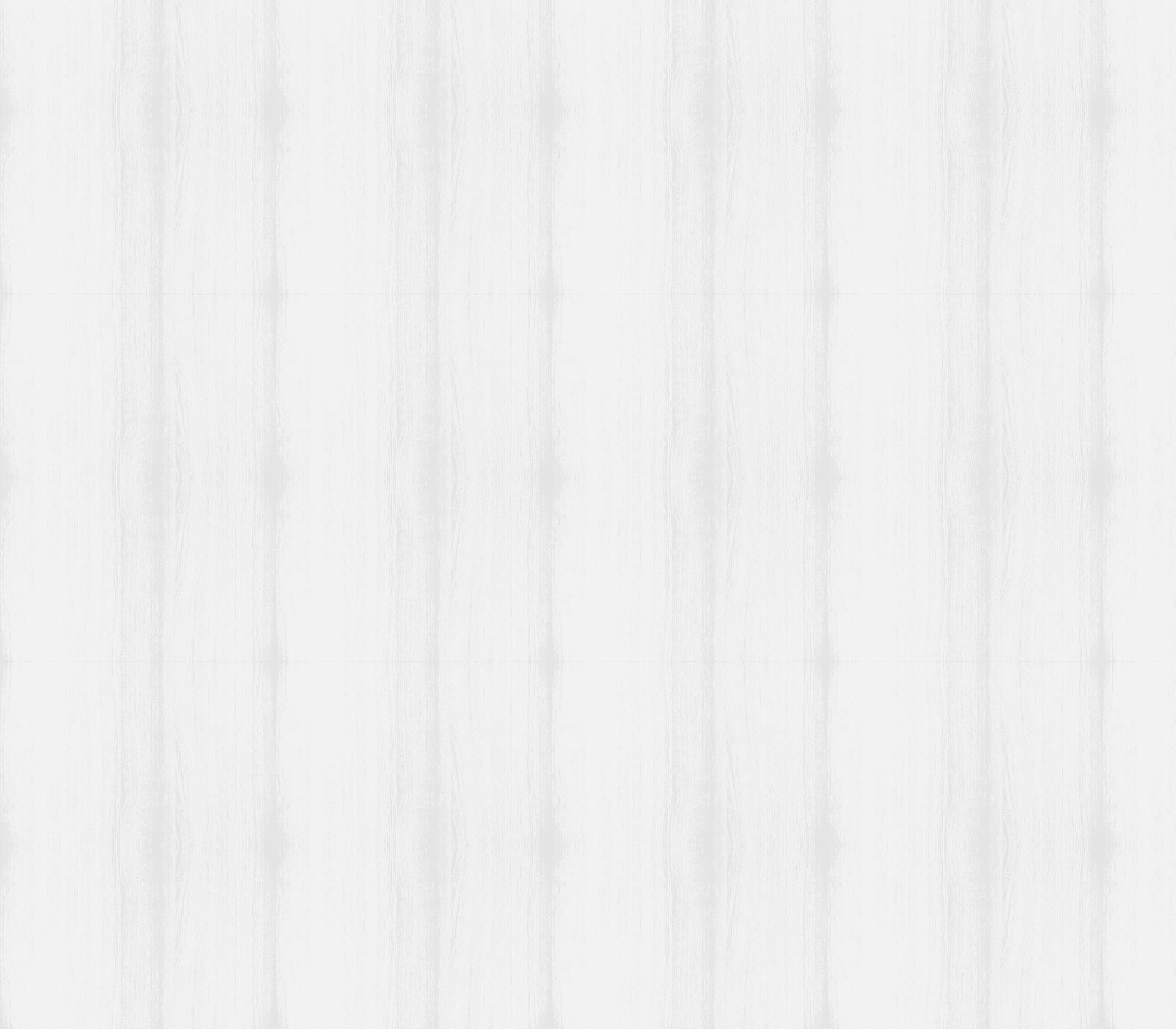 Metal Barns
Metal barns are a popular option for the modern farm. Engineered with state-of-the-art technology, custom steel frames can accommodate every kind of agricultural enterprise. Galvanized panels are pest-resistant, mold-resistant, and fire-resistant, making steel buildings one of the very safest structures for your livestock and crop investments!
The energy-efficient seal of a metal barn will keep your interior cool in the summer and cozy in the winter. Metal barns are forecast to last for fifty years or more!
Are you searching for a durable, versatile, stylish barn? Look no further than the beautiful inventory offered by Buildings And More!
Buildings And More offers a number of rent to own storage buildings, so you can get the storage space you need now with a price you can afford in the future. No matter how much space you need, we can find the right portable building for your property.
Sizes range in size from 6x8 to 24x30
Siding options include aluminum or 29 gauge steel
Roofing options include aluminum, steel, or shingles
All buildings come standard with lights, recepticals, 3/4" treated plywood floors, skids, and floor joists, 36" or 46" door, and windows. Additional door styles and sizes are available.
Buildings are warrantied for up to 36 months on materials and workmanship against defects, 20 years on treated wood components, and 30 years on rust or corrosion of the aluminum products.
The below sizes represent our most popular Steel Buildings. We have many more sizes available. Please Contact Us so we can provide you with information for our other sizes.
8'x8'
8'x12'
10'x12'
12'x12'
10'x16'
12'x20'
12'x30'
Roof Styles for Metal Buildings
Choosing the right roof style for your metal building is important for both durability and aesthetic appeal. Here are the three most popular roof styles for steel structures.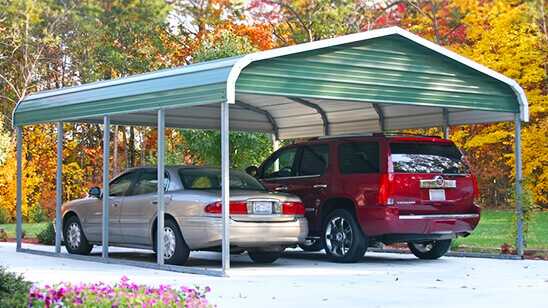 Regular roof styles are the perfect combination of affordability, elegance, and functionality. It features horizontal panels and rounded edges, which provide reliable protection against rain, snow, and debris. Perfect for areas experiencing mild weather conditions.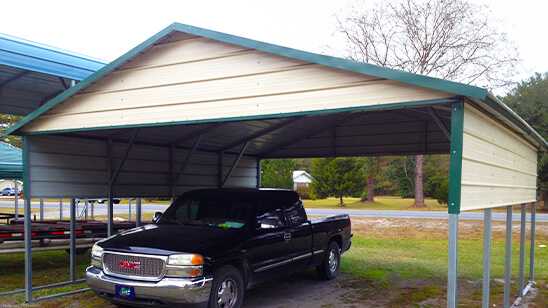 Boxed-eave roof style is perfect for protecting your cars, equipment, and other valuables. The horizontal panels in this roof style create an "A" shape, which prevents snow and debris buildup. This roof style is great for areas experiencing moderate weather conditions.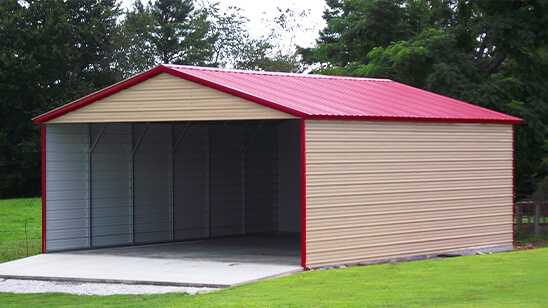 The vertical roof style offers superior strength and efficient water drainage. With vertically-oriented panels, it easily sheds rain, snow, leaves, and other accumulations. This style is perfect for areas experiencing extreme weather conditions.

Get your dream building installed at your site
Call today to talk to our building experts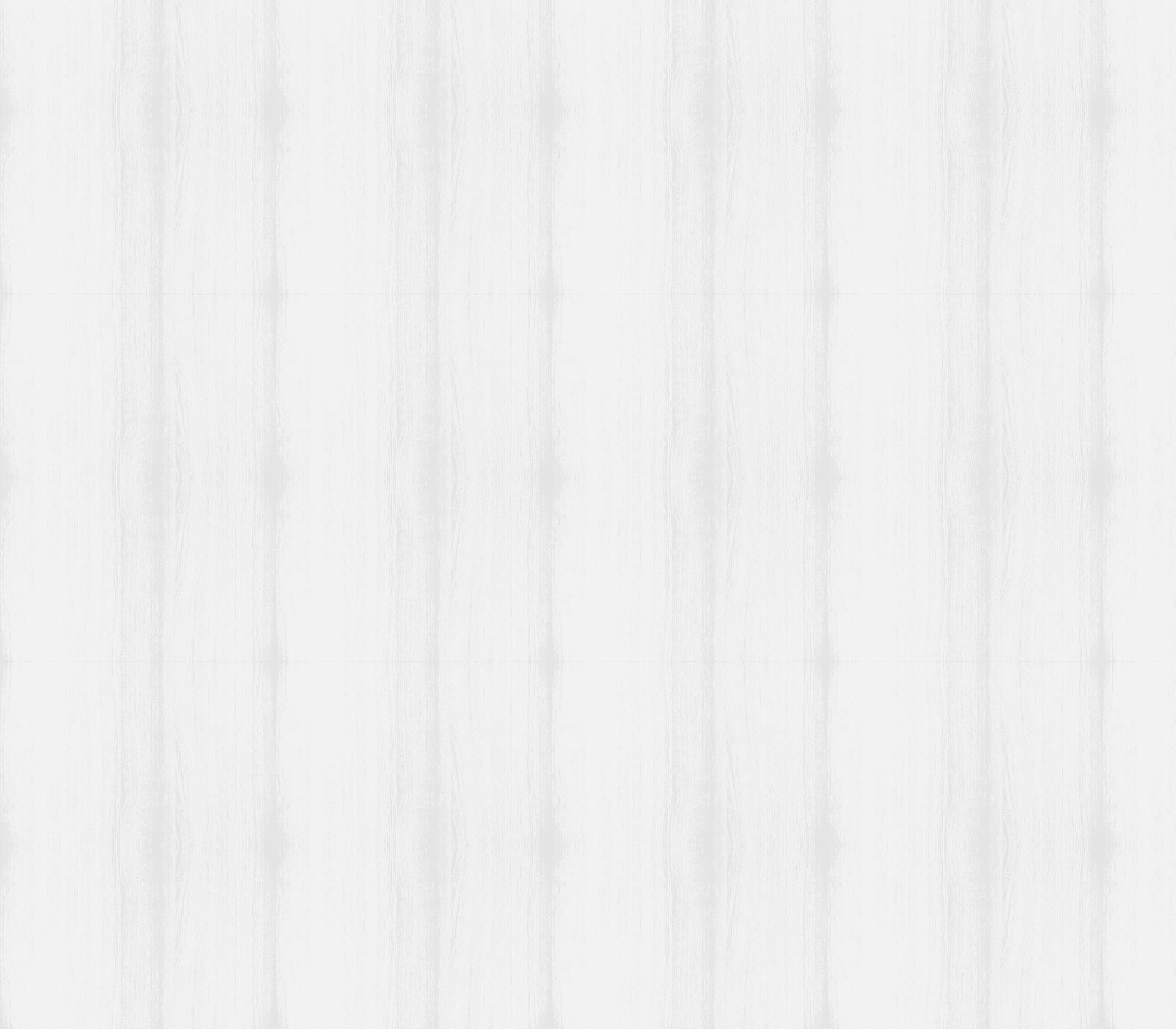 5 Facts About Steel Barns
Steel is Tough
Metal barns are built to be durable. Steel is classified as a Type 1 building material by the International Building Code (IBC). That's the highest fire safety rating offered to any material! Buildings And Moreengineer every building to withstand extreme weather conditions, with certified frames that meet every building code. When you invest in the security of a metal barn, you can face the future with confidence.
Clear Span Space
Metal barns are built with clear span truss systems. Clear span engineering requires no interior columns or load-bearing walls for structural support of the roof. What does that mean for you? You'll have a versatile space that can flexibly accommodate seasonal changes! Place stalls or storage areas wherever you need them. Park tractors indoors for the winter and secure crops in the fall. A metal barn is full of potential!
Metal Barns Designed to Handle Humidity
Steel is far less permeable than wood, although it does have the potential to rest. Buildings And Moreuse high-grade steel that is galvanized in order to prevent corrosion. In fact, our panels are backed by a twenty-year rust-through warranty!
Metal Buildings = Insurance Premiums
Steel structures are built to last for decades. The incredible durability and safety of metal buildings mean big savings for their owners. Insurance companies offer much lower premiums for metal buildings than are offered for traditionally built stick-built structures!
Steel Resists Infestation
Are you tired of paying for pest inspections and treatments? Metal buildings are not vulnerable to termites and other infestation issues because steel is far too tough for insects!
Metal Barn Models
Horse Barns
Your horses deserve the safest barn! Steel is prized for withstanding rot, mildew, and fire. High-quality metal from Buildings And Moreis engineered without the use of toxic chemicals and won't leech dangerous particulates into the air; our barns provide better indoor air quality than timber structures. Thanks to the incredible clear span design, you'll have plenty of space for indoor riding and training.
Raised Centre Aisle Barns
The stylish raised barn from Buildings And More is named for its raised center section. It features a vaulted center raised above the side roofs by several feet. There is space for a hayloft, a walkthrough, or room for that extra tall tractor you need to store. You can be confident in every barn from Buildings And More! We back every model with our warranties.
Continuous Roof Barns
The continuous roof barn from Buildings And More is designed with long paneling, unlike the drop-down barns seen in other parts of our inventory. You can customize it with garage doors, lean-to sides, walkouts, or windows. This barn's sleek, modern appearance will bring your farmyard aesthetic into the 21st century.
Red Barns
You can charm your neighbors with the traditional red metal barn! Elevate your aesthetic with elegant white J-trim and red galvanized panels. Get the appeal of an old-world structure with all the benefits of modern architecture. Pest-resistant, fire-resistant, non-corrosive steel is the best choice for every barn owner.
Metal Barns with Different Roof Styles
Regular Roof Barn – The regular roof from Buildings And More is recognized by its curved edges. This roof is best suited to temperate areas that don't see extreme wind or snowy weather. If you're worried about location and climate, talk to one of our experts about upgrading to a reinforced roof.

A-Frame Roof Barn – If your barn faces seasonal high winds, an A-frame roof is an excellent choice. The A-frame roof is expertly certified to withstand winds up to 140mph!

Vertical Roof Barn – The strongest roof in the inventory, the vertical roof is reinforced with steel components; the hat channel and ridge cap provide superior durability. Expertly certified to withstand high winds and heavy snow loads, the vertical roof is the strongest steel roof in the industry!
Customization Options for Metal Barns
Buildings And More experts are devoted to creating a building that meets your needs! We empower you to customize everything from the base rail to the roof. Check out all the amazing options here:
Size – Take the time to stake out your dimensions! Will 1200 square feet accommodate your home office and the treadmill? Measure your machinery and give your new metal building ample margins for maneuvering. You can choose the length, width, and height that you need!

Roof styles - There are three main roofs available for our metal buildings: the regular roof, the A-frame, and the vertical roof:
• Regular Roof – The regular roof is the most affordable roof in the Buildings And Morelineup, featuring curved edges and high-quality steel. This roof is recommended for areas with mild weather.
• A-Frame Horizontal Roofs – A-Frame rooms are recommended for areas with high winds but not heavy precipitation. If you have questions regarding your climate conditions, Buildings And More expert is happy to assist!
• Vertical Roofs – The strongest roof model in our inventory, the vertical roof is certified to withstand high winds and heavy snow loads. Buildings And More experts recommend the most highly-rated vertical roof for commercial metal buildings.
Color – Buildings And Moreempower you to showcase your taste! We offer over a dozen colors to please every taste and aesthetic. Check with your HOA, and then call our experts!

Door & Windows – If you need additional overhead doors or windows for convenience and light, our designers can help! French doors for your patio? Giant overheads for truck deliveries? Whatever you need, we'll deliver.

Anchors - We offer a variety of architectural options to make your building stand out from the crowd; Dutch frame outs, triangular gables, and J-trim. Our experts will recommend the best anchors for your chosen foundation.

12- & 14- Gauge Steel Framing – Our high-quality steel frames are built with standard 14-gauge steel. However, our specialists offer sturdier 12-gauge for large commercial structures.

26- & 29- Gauge Roofing – Buildings And Moreoffer all the gauges you need to build a roof that will withstand anything!

Certifications – Our building specialists have a decade of experience in fabricating buildings that effortlessly pass every inspection. Whatever building code or certification you require, we'll ensure your building meets it.
The Many Uses of Metal Barns
Residential Storage – Keep your belongings where they will be safe from pests, moisture, and theft. If your home is crowded with stuff, invest in a metal residential storage building to protect your treasures.

Farming/Agriculture – There is nothing more safe or more durable than the incredible steel used in Buildings And More'agricultural buildings. Your livestock and crops can rest securely in the energy-efficient seal of our fantastic structures.

Greenhouse – Custom design all the windows your budding sprouts will need with Buildings And More team! Our metal greenhouses optimize energy usage and natural light.

Indoor Riding Arena – Clear span design makes a metal building the perfect choice for your riding arena. Without interior pillars to clutter your dressage routine, you can train indoors, no matter the weather.

Boarding Facility – Create a secure, clean, and durable space for boarding! Metal buildings are fire-resistant, moisture-resistant, and pest-resistant. They are easy to maintain and clean, so they make a perfect shelter for beloved animals.

And Many More!
Why Farmers Choose Metal Barns
Metal buildings are an excellent choice for farmers and investors. Steel is a durable, recyclable, and efficient material that is certified to withstand extreme weather events. As the climate changes, a metal building is a reliable structure to face the future.
DURABLE – Invest in a metal barn, then enjoy decades of security! Steel buildings are forecast by experts to last for at least fifty years or more! With strength to weight ratio higher than most other materials, steel is resistant to moisture, weather, and pests. It's ductile or flexible nature makes steel an excellent construction material for absorbing energy and impact.

RECYCLABLE – Cold formed steel is 100% recyclable! If any panel in your building is dented or damaged, it can be melted down and made into a new piece. Steel is, therefore, an excellent material choice for consumers who are environmentally responsible.

SAFE FOR ANIMALS – The buildings from Buildings And More are pest-resistant, fire-resistant, and mold-resistant. Our galvanized components are also non-corrosive and backed by a twenty-year rust-through warranty!

ENERGY-EFFICIENT – Save big money with a metal barn! Buildings And Moreuse high-performance insulation and efficiently create a climate-controlled interior. Reflective panels also reduce energy costs over time. Expert sealing around doors and windows increases efficiency.

VERSATILE – Steel buildings are more quickly fabricated than traditional wood structures; they require less energy, and they can be used for anything! Because the clear span interior has no load-bearing walls, you can transition from machine storage to stalls, from arena to tractor coverage, from greenhouse to crop storage. Farmers love the flexibility afforded by the modern metal barn.
Benefits of Steel Barns
Metal barns are built with efficiency, quality, and state-of-the-art software. How can they make your life better?
Quick Assembly – When time is money, don't wait for the two-year wooden project. Metal buildings are designed, prefabricated, delivered, and installed in a matter of weeks!

Multi-purpose– Your custom metal building can be used for everything! Host a barn dance, store your equipment, and anything in between.

Clear Span – The brilliant engineering of the metal clear span truss system means that owners never have to contend with load-bearing walls or interior pillars. You can drive tractors with ease beneath the wide, soaring roof of your new metal barn.

Long-lasting – Your new metal barn will be backed by warranties and certified for extreme weather. Steel structures are forecast to last for decades!

Value – Per square foot, it's far more affordable to construct and maintain a metal barn than a wooden one. Even insurance premiums for metal buildings are lower than brick or wood! Low maintenance and high durability make metal barns the best investment for every farm.
Metal Barn Kits
Metal barn kits from Buildings And More contain everything you need to build a barn! The components depend on the customizations you've chosen, but every galvanized panel is backed by our confidence warranties.
Once you choose the features, you need and place your order. You'll receive the following:
Roofing panels of your choice
The wall panels
All required fastening hardware
All required building anchors
Steel framing members and supports
Pricing for Metal Barns from Buildings And More
Metal barn kits are surprisingly affordable! If you're looking for the best deal, Buildings And More offers the best prices in the industry. Our close relationships with manufacturers allow us to pass incredible savings on to you!
The cost of your metal barn will depend on the customization you need. Nevertheless, you can be confident you'll be getting a cost-effective solution. To mitigate the cost of your metal barn kit, Buildings And More offers a range of financing options. You can choose from a traditional financing program and options such as rent-to-own. These make it easier to get the right barn for you.
Get Your Metal Barn from Buildings And More!
The best metal barns are waiting for you at Buildings And More! Our devoted team of building specialists will gladly assist you in designing, customizing, and creating the barn of your dreams!
Our experts pride themselves on providing the very best in customer service. From foundation to final bolt, our team is devoted to your satisfaction. Call today at (386)755-6449 to discover the incredible service and quality offered by Buildings And More!